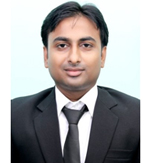 Anand Kumar
National Institute of Food Technology Entrepreneurship and Management
(Deemed To Be University [De Novo Category] UGC and AICTE recognised) An Autonomous Institution under Ministry of Food Processing Industries, Government Of India
Website: www.niftem.ac.in
Objective
Seeking an opportunity to secure a position where I can efficiently contribute my skills and academic abilities for the organisation with the parallel motive of my professional and personal growth.
Education
Bachelor of Technology in Food Technology and ManagementNational Institute of Food Technology Entrepreneurship and Management
Current CGPA: 7.09/10
Aug 2012 – Present
12th Grade (NIOS Board)National Institute of Open Schooling, Bihar
Performance: 75%
2010 – 2012
10th Grade (CBSE Board)Jawahar Navodaya Vidyalaya Kolasi, Katihar, Bihar
Performance: 9.2 CGPA
2008 – 2010
Training
Mondelēz India Foods Pvt. Ltd.                                                                                          Aug 2015 – Dec 2015
In-Plant Trainee, Tang Manufacturing Plant, Hyderabad
Received exposure to functioning of various departments with primary focus in Manufacturing
Exposure to Continuous Improvement System – Green Belt & Yellow Belt Project, Kaizen system & 5S
Exposure to Food Safety and Quality Management System
Projects Undertaken
Reduction of Batch Processing Time of All Mixers, Tang Manufacturing
Provide a best solution for reducing non-value added time and also suitable measures to prevent different type of breakdowns thus reducing downtime.
Production capacity increased by 2416 MT/year.
Performed Why-Why Analysis, Fishbone, Pareto Study, Cause and Effect Matrix etc.
Sustain Project with One Point Lesson, Checklist, Employee Training, and Modification of SOP.
Investigating Potential Applications of Brewer's Spent Grain, NIFTEM
Evaluation of Brewer's spent grain for its potential as a food ingredient in bakery products – primarily cookies and bread.
Achievements
Active Member, Award Winning Village Adoption Programme Group, NIFTEM.
Participant, 54th National School Game 2008-09 (Kho-Kho).
Participant, 210 Bharat Scout Guide National Adventure Programme.
Team Captain, 19th Navodaya National Games (Kho-Kho).
Extracurricular Activities
Active member, Entrepreneurship Committee.
Organizer NIFBUZZ Competition.
Volunteer, International Conference-2013 & Ullas 2k15 – Annual cultural fest.
Skills
Interpersonal Skills: Competent networker, able to talk on different levels and quickly establish rapport
Team Work: Excellent team player, able to significantly contribute and work as part of a team to achieve a common objective
IT: Proficient in Microsoft Word, Excel, PowerPoint
Personal Details
Age: 21 Yrs.                   Gender: Male                        Languages: Hindi, English
Phone: 9814203946
Permanent Address: S/O- Parmanand Yadav, Professor Colony, Rambagh, Purnia District, Bihar – 854301
Declaration
I hereby declare that the information given above is true and correct.